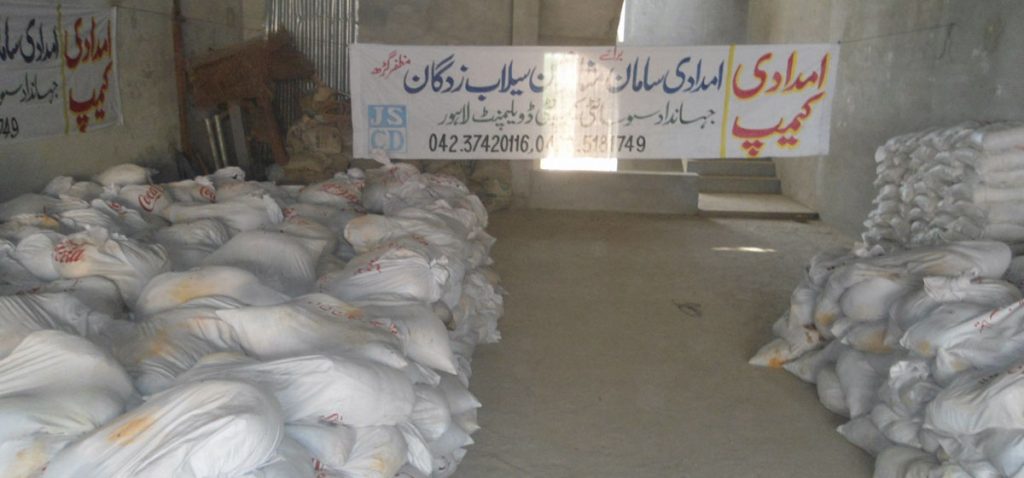 For the consecutive two years (2010 & 2011) Pakistan suffered the worst possible floods in its history. More than 20 million people were affected. Like always JSCD was on the frontline for providing relief services in humanitarian situations in all the four provinces in Pakistan. During the floods emergency, JSCD staff and volunteers established relief camps where families were registered, ration cards were issued and every family was issued 15 days ration and utensils of daily needs. Moreover, health services were also provided by medical teams of JSCD.
During the 2011 floods in the province of Sindh, JSCD worked in the districts of Badin and Sanghar, where 500 families with around 3500 men, women and children were adopted and each family was provided with the following ration for 15 days:
20 kgs of Atta/flour
05 kg rice
3 kgs lentils
0 2 ½ kgs ghee
01 kg sugar
01 tea packet
01 kg powder milk
01 kg of dates/khajoor
04 packets of Rusk
JSCD camp office was established at Badin and Sanghar cities from where all the relief efforts were coordinated.
JSCD is extremely grateful to individuals and organizations specially Coca Cola for their donations and assistance for the relief activities.
We are still working in the districts of Muzaffargarh and Rajanpur, where extensive health and education are provided on a very large scale.
Please find below the current rehabilitation and relief activities of JSCD in Muzaffargarh and Rajanpur districts:
Health
JSCD is continuing its medical camps organized in its adopted flood affected areas. Moreover it has also initiated health and hygiene program to impart health education to the flood affectees to prevent water borne diseases. The outreach team of JSCD is moving from village to village, establishing community action groups of the villagers/local population and assist them in spreading the health education to the community.
Education
The schools in the flood hit areas have either completely or partially destroyed. JSCD has setup Temporary Learning Shelters (TLC) for schools in four union councils of district Muzaffargarh. To date it has set up more than 161 TLC and enrolled approximately 2500 children. This effort of JSCD is being supported by UNICEF. The happiness seen on the children's faces as they came back to school was the best reward that anybody could have wished for.
These children are also provided with stationery, bags, school in a box and recreational kits. Temporary boundary walls have been setup for safety and security of children in TLCs. Nearly 300 teachers of all these government schools are also being trained to effectively provide education in the current situation and to provide psycho-social support to children.
Sanitation Services
Providing quality education also implies the provision of an enabling learning environment in which children can perform to the best of their ability. The flood has destroyed the school buildings and water and sanitation facilities have also been destroyed. In such an environment, children resort to open defecation around or even at the school compound and this causes a big impact on their wellbeing and health thus adversely affecting school children's participation, lowering enrollment rates and increasing absenteeism, poor classroom performance, and early school dropout.
This project titled 'Water, Sanitation and Hygiene Facilities in Schools in District Muzaffargh', being implemented in collaboration between The Coca-Cola Export Corporation, Pakistan Branch and JSCD has contributed towards "child protection and development" by provision of adequate water and sanitation facilities in target two primary schools of district Muzaffargarh namely, Government Girls Primary School, Basti Surhani and Government Primary School, Wigh. The project envisaged building latrines with water & sanitation services and provision of safe drinking water. Moreover, the students, teachers and the community are also be empowered and trained to adopt safe hygienic practices.
With the winters setting in, the flood affectees will soon require warm cloths, quilts/blankets and beddings to withstand the cold weather. Moreover, JSCD is also considering initiating rehabilitation effort regarding housing, agriculture, livestock and economic empowerment. Please DONATE generously to support these families in need.