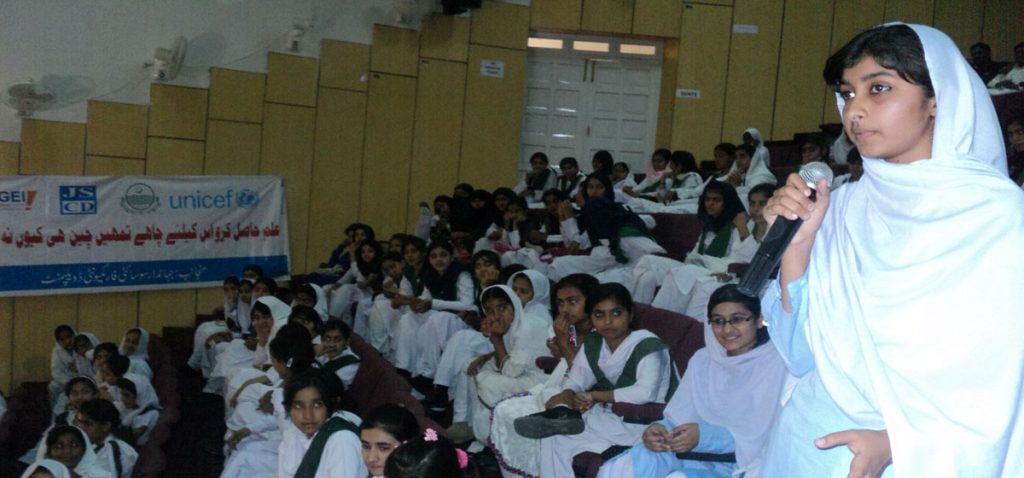 Partners: UNICEF & Govt. of Punjab (2010-2011)
Location: Muzaffargarh District
Pakistan was hit by devastating floods in 2010, which destroyed most of the
educational infrastructure in the flood affected areas specially Muzaffargarh district. JSCD is collaboration with UNICEF and the district government worked towards resuming education for children in flood affected areas of the district.
In the first phase of the project, 161 Temporary Learning Centre (TLCs) were established to provide secure place for education at the site of fully damaged schools. A total of 39,170 students (18,694 Girls & 20,476 Boys) were enrolled in TLCs. These children were provided with stationery, bags, school in a box, emergency education kits, plastic mats and recreational kits. Teachers were trained on concepts of health and hygiene to promote effective education in the vulnerable situation and to provide psycho-social support to children.
In the second phase of the project TLCs were replaced with semi-permanent
school structure. Along with it 35 Early Childhood Education (ECE) centers were established by JSCD in the most deserving TLCs recommended by the education department. Moreover, young boys and girls were recruited, trained and orientated to identify and enroll out of school children, arrange co-curricular activities in the school and most of all develop a sense of voluntary participation.